VICAS Spain
Under new Royal Decree(933/2021), data sharing obligation in Spain entered into force on January 2nd, 2023. The Decree establishes the obligations of documentary registration and information of natural or legal persons who carry out lodging and motor vehicle rental activities. The Spanish Ministry of Interior has established an "adaptation period" for the full enforceability until June 2nd, 2023.
The Traveler and Transaction data of the following events need to be sent through an automated web service or via manual file upload on to the authority website within 24 hours of each reservation and Check-In.
New Bookings, Booking Modifications and Cancelled Bookings for the day
Daily Check-Ins (Arrivals for the day)
VICAS Spain is an easy-to-use scanning and reading system that will help hotel front office staff to easily capture the guest identification & arrival details automatically and save them on to their computer systems. VICAS Spain can generate the required daily guest data as an XML file as required by MINISTERIO DEL INTERIOR website or can automatically send the daily guest check-in and booking data to the ministry using the newly introduced webservice. The system also eliminates the errors associated with manual data entry and creates an electronic database to enhance organization efficiency through easy storage, backup, searching, sorting and creating management reports.
Key Features & Benefits
In compliance & obligations with the Royal Decree 933/2021 for hotels & lodging establishments in Spain is now simplified with Samsotech VICAS Spain!
Automate the sending of Daily Guest Booking and Guest Check-in details to the Ministry of Interior using the all new Servicio de Comunicación Hospedajes.
Option to generate the required export files for easy upload to Ministry of interior website.
One SCAN captures all mandatory guest identification details from International passports and EU ID cards.
Faster guest check-in; improves guest experience
Eliminates manual data entry errors; improves staff output
Audit trail, data encryption & PII compliance for enhanced security
Digital storage eliminates costs on paper, printing, photocopying, filing, safety and storage
24/7 Support
Typical System Flow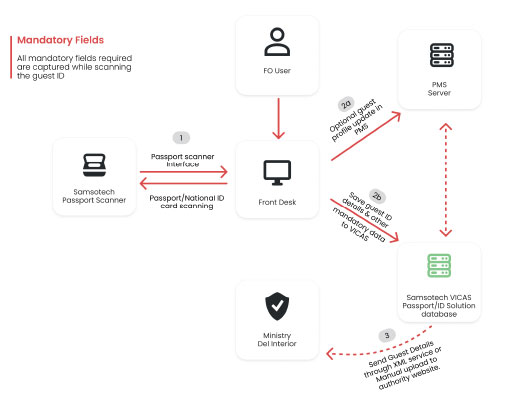 Our Customers and Integration Partners